Consider a Customized Disability Policy
If you are in good health, disability insurance may not be high on your list of financial priorities. But the statistics might surprise you. A 50-year-old has a 36% chance of experiencing at least one disability lasting 90 days or more before reaching age 65.1
Less surprising, perhaps, is that older people often take longer to recover from a serious disability. A 55-year-old who experiences a 90-day disability has a 60% chance of it lasting for at least five years.2
Even if you have a solid emergency fund, an extended period away from work could strain your family finances and alter your options for retirement.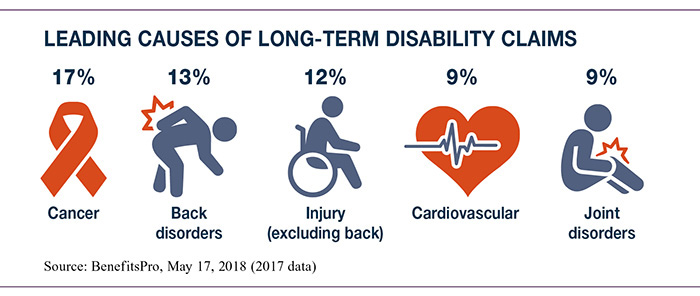 Portable Individual Coverage
If you're concerned about the potential effect of losing your paycheck due to sickness or injury, you might consider an individual disability insurance policy. Your employer may offer long-term disability coverage, but group plans typically don't replace as large a percentage of income as an individual plan could, and benefits from employer-paid plans are taxable to the employee if the employer paid the premiums. Of course, if you change jobs, you might lose your subsidized employer-based coverage.
An individual disability income policy could help replace a percentage of your income, up to the policy limits, if you're unable to work due to illness or injury. Benefits may be paid for a specified number of years or until you reach retirement age. If you pay the premiums yourself with after-tax dollars, benefits are usually free of income tax.
Customizing Coverage
Unlike group policies, an individual policy can generally be customized to meet your specific needs. Here are some common riders. All benefits are up to the policy limits.
Residual benefit — May help replace lost earnings after you return to work part-time or at a lower-paying job.
Own occupation